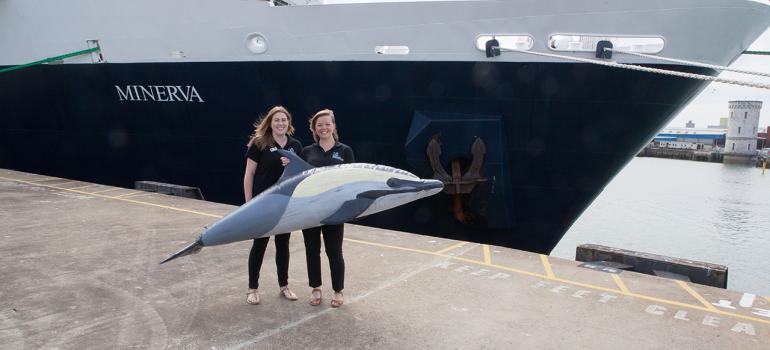 5 October 2016
The results of marine charity ORCA's OceanWatch 2016 are in, and show more sightings of whales, dolphins and porpoises (collectively known as cetaceans) on routes from Portsmouth International Port than any other UK port.
During ORCA OceanWatch (23 July to 31 July 2016) a total of 2,526 creatures were spotted in six different sea regions. Nearly 800 of these were seen from ships that had sailed from Portsmouth International Port.
ORCA, which is based in Portsmouth, developed a training package designed specifically for bridge crews.  This enabled them to identify a wide range of European cetaceans and also how to collect scientific data on these fascinating marine mammals.
In total 63 bridge crews from 13 vessels were trained to record their observations. This was supplemented by 47 volunteer ORCA Marine Mammal Surveyors, who conducted surveys on a further 11 vessels.
Sally Hamilton, Director of ORCA, said: "ORCA OceanWatch 2016 was a great success, with more vessels and partners involved than last year, building an even better picture of marine life in our oceans.  14 species of cetaceans were sighted in six European sea regions, which is an outstanding result."
Portsmouth based Brittany Ferries recorded 460 whales, dolphins and porpoises during the survey week, with passengers contributing to data collected by joining ORCA wildlife officers on board ferries heading to and from France and Spain.
This was the second ORCA OceanWatch, with cruise company Swan Hellenic also joining the survey.  Its ship 'Minerva' sailed from Portsmouth International Port with an ORCA wildlife officer onboard.  Along with bridge crew and passengers she recorded 330 animals on a cruise through the Bay of Biscay to Portugal and Spain.
The data from ORCA OceanWatch helps the charity create a living map of important habitats. This information is key to offering more protection for endangered species, and understanding more about the distribution of whales, dolphins and porpoises in European waters.
For further information please contact Emma Gaisford/Julie Blackwell on 01256 631696 or email julie.blackwell@purple-agency.com or emma.gaisford@purple-agency.com
Photo: L-R Lucy Babey and Anna Bunney – Wildlife Officers at ORCA