The tiny jewel that is Jersey, with its unique blend of French and English heritage has long proved a magnet to travellers. Cruise Jersey is delighted to welcome visiting cruise ships to our island waters. With our breadth of knowledge and proven experience, coupled with outstanding on-island services and facilities, we can offer visiting cruise ships and their valued passengers with an unforgettable escape.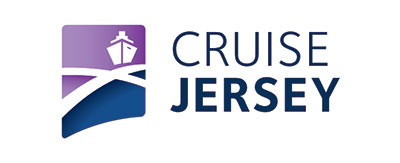 Jersey is located in the northern part of the Bay of St Malo, some forty miles south of the main English Channel shipping lands and only 12 miles off the Contentin Peninsula. St Helier Harbour is located in the Island's south coast at the eastern end of St Aubin's Bay.
The main berth is located on the Albert Pier. The pier allows modern manoeuvrable vessels up to 116m in length to berth alongside. The heart of Jersey's shopping centre is only a pleasant ten minute  stroll from the St Helier Harbour. There are deepwater anchorages to the north-east of the Island off St Catherine's Breakwater and in Bouley Bay.
Preference anchorages are in the southern part of St Aubin's Bay and off the Demie de Pas Lighthouse for vessels more than 170m length or 6m draft. Manoeuvrability of the vessel is a consideration in deciding the anchorage position. Tenders land passengers at the Albert Pier pontoon, St Helier Harbour.
We look forward to welcoming you soon.
Top Five Facts About Jersey
During the summer months, Jersey is consistently the warmest place in the British Isles
Jersey has one of the world's largest tidal ranges, the Island growths by a fifth everytime to the tide goes out
The Jersey cow can trace the purity of its lineage back to 1763
Man of Steel 'Superman' film actor Henry Cavill was born and raised in Jersey
Jersey boasts 12 parishes, of which each has access to the coastline
Port Info
Facilities
Contacts & Info
Latitude & Longitude:
49°10.0'N,  002°07.0'W (as per ALRS Vol. 6
Berth Information:
Albert Pier, No.3
Sump 3.4m BCD
Length 105m
Sump Width 16m
Quay Height 13.0m ACD
Elizabeth harbour
Sump 136m x 23m sump depth 6m BCD available between ferry movements
Vessel Width:
16m wide sump on Berth No. 3
Vessel Draft:
Dependant of tide height and berth allocated. Maintained depth inside main harbour 2.0m BCD
Depth on Berth:
No. 3 Sump dredged to 3.4m BCD
Largest ship to call:
110m alongside berth No 3 /130m using Elizabeth harbour berths / No limit at anchorage (subject to draft) Other than listed above
Max Ship Dimension:
110m inside main harbour, 136m at Elizabeth harbour
Pilotage:
Yes (for vessels 35m and over)
Tugboat:
1x 26m Damen Shoalbuster -28t Bollard Pull
1 x 11.5m workboat – 1.5t Bollard Pull
Power Supply:
16A and 74A available on Albert Pier
Fuel Supply:
Via road tanker, arranged through shipping agent
Hot works / painting/ lifeboats:
Hot works / painting as per vessels SMS. Call St Helier VTS CH14 for permission to launch lifeboats if alongside berth.
Waste Handling:
Euro bins and recycling points available on quay, arranged through shipping agent
Anchorage Position:
No. 1 – 49° 10.31'N 002° 08.78'W – Depth BCD 5m  (<140 LOA)
No.2 –  49° 10.065'N 002° 08.40'W- Depth BCD 6m (<150- 180LOA depending on draft/tide)
No. 5 –  49° 08.51'N 002° 06.05'W – Depth BCD 14m no size limit
Distance to landing stage in nm:
Anchorage No.5 to Albert Pier Pontoon – 2.8nm
Anchorage No.1/No.2 to Albert Pier Pontoon – 1.7nm
Cruise Terminal Building:
Internet Access:
Free WiFi is available in the area surrounding the harbour
Telephones:
At Albert Pier Terminal and throughout St Helier
Mailbox:
Post office available in St Helier
Distance to Railway Station:
Banks / ATM Machines:
At Elizabeth Terminal and throughout St Helier
Restaurant/Café:
There are many cafes, bars and restaurants located in and around St Helier which is only a short 10 minute walk from the harbour.
Address:
Ports of Jersey, St Peter, Jersey, JE1 1BY
Berth Enquiries / Reservation: