Six ports that each offers a different experience of the magical Celtic nation of Wales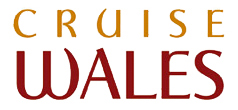 Cruise Wales is a partnership with Welsh Government , ports, destinations and outside stakeholders who are working together in order to offer an excellent cruise product for Wales. We have successfully attracted new vessels from most of the major American and European cruise companies and we are working on improving our port facilities. In terms of day and turnaround calls, Cruise Wales is working closely with Irish Sea and British partners to develop sustainable, short-distance-between-port itineraries.
Come enjoy a warm welsh welcome! Along the Bristol Channel are Newport, Swansea and Cardiff – all dynamic city ports with superb attractions, shopping and activities that will suit every visitor. Cardiff is the capital of Wales and Swansea and Newport have a good central location with access to city, coast and countryside. Milford Haven and Fishguard are in the Pembrokeshire Coast National Park and are gateways to the beauty of rural Wales, a landscape of gentle green hills and picturesque villages. The Port of Holyhead is located on the Isle of Anglesey, North Wales. It lies in a well-protected position due east of Holyhead Mountain, shielded from the Irish Sea by the historic Breakwater which is 1.5 miles in length. Holyhead is a 24 hour, deep water, lock–free port, centrally located on the Irish Sea coast within easy reach of several major conurbations both in the UK & Ireland.
Top Five Facts About Wales
Wales played a pioneering role in the Industrial Revolution – thanks in part to being the richest land in Britain for mining. The Welsh soil has been exploited at least since the Bronze Age and attracted the Romans to Britain, chiefly for Wales' gold, copper and lead, and Cornwall's tin.
English and Welsh are the two official languages of Wales. Welsh is a Celtic-based language that has seen a resurgence in recent times and is now spoken by over 20% of the population.
The country of Wales is said to contain more castles per square mile than any other country in the world – over 661 Castles can be found.
Cardiff's Millennium Stadium has the largest retractable roof of any sports stadium in the world.
This country is a home to more than 3 million people. However, the population of sheep in this country is four times bigger than the people (11 million sheep)
Visitor Information
Contact Information
Ports & Destination Information/Useful Links
Cardiff
The Capital of Wales, located in the South East of Wales of Cardiff Services & Facilities.
The Port of Cardiff is lock based and suitable for small to medium size cruise ships and is able to provide tailor made services to meet the individual requirements of each cruise call.
Fishguard
Located in Pembrokeshire, the UK's only Coastal National park.
Fishguard Port can take vessels upto a 180 metres on the berth and from 2016 will have a new pontoon facility for any size vessels that wish to go to anchorage. Cruise ship entertainment is usually provided by local school groups singing and dancing on the quayside. Coaches are assembled at quayside for cruise passenger tours/excursions. Toilets facilities are available.


Holyhead
Located on the Isle of Anglesey it is the gateway to North Wales and Snowdonia.
At the port of Holyhead, a warm welcome and local entertainment can be found at quayside. A free shuttle bus to the town centre and shopping area is provided for cruise-ship passengers and crew. Staff will provide visitor information and itinerary planning to help visitors make the most of their stay. There is adequate coach parking at the quayside. There are opportunities to buy local Anglesey hand made crafts.
Newport
Located at the Gateway of England and Wales in South East Wales.
At the Port of Newport during a port call, when the passengers disembark the vessel, they are greeted by a Welsh welcome with representatives from the Tourist Information Centre available to assist with any passenger requirements. Throughout the duration of the call, a shuttle bus is operated to transport any passengers who are not on an organised tour to and from the local city centre. At the end of the day, as the passengers embark the ship they are given a send off with a Welsh Choir or Band.


Swansea
Wales' second city, and gateway to Cardiff.
The Port of Swansea offers a marquee sited at the quayside. It offers a warm Welsh welcome and an opportunity to sample some of our delicious local produce. Our staff will provide visitor information and itinerary planning to help visitors make the most of their stay. There is adequate coach parking at the quayside,and shuttle buses are provided.
Milford Haven
Located in Pembrokeshire, the UK's only Coastal National park.
19m beam Dry Dock accommodating vessels up to 140 metres in length. Wet berths are available within the docks to accommodate vessels from 90metres to 130 metres. Alongside repairs Steel fabrication expertise can be found here.