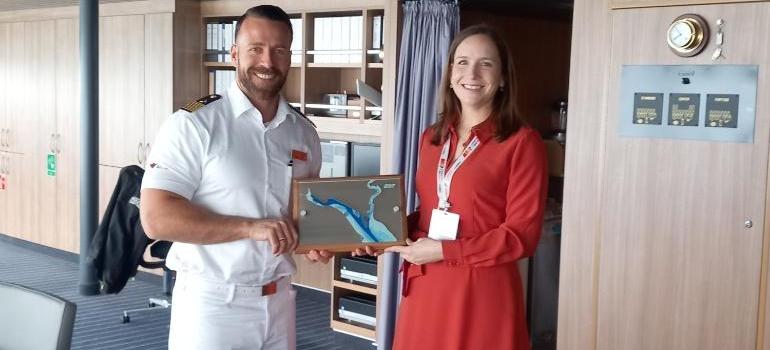 2 May 2023
LNG-powered cruise ships AIDAnova and Le Commandant Charcot arrived at the Port of Southampton for the first time ever on April 23 and April 26, respectively.
Both vessels were received at the recently completed Horizon Cruise Terminal, which is equipped with shore power capability and fitted with more than 2,000 roof-mounted solar arrays.
Rebekah Keeler, head of cruise, Associated British Ports (ABP) Southampton exchanged plaques with AIDAnova Capt. Michael Schmid in a traditional plaque and key ceremony. The ship, which has capacity for 5,000 passengers, was at the mid-point of a 10-day cruise from Lisbon to Kiel, also calling at Zeebrugge, Bruges and Oslo, and left Southampton on Sunday evening.
'It was fantastic to welcome AIDAnova to Horizon Cruise Terminal,' remarked Keeler. 'Since we launched ABP's sustainability strategy earlier this year, what better way to have our first plaque and key exchange of the 2023 cruise season than with a cruise ship powered on LNG, capable of taking shore power and calling at our Horizon Cruise Terminal.
'We look forward to welcoming AIDAnova back to Southampton during her future cruises.'
On the 27-passenger capacity vessel Le Commandant Charcot's visit, Keeler stated, 'It was wonderful to welcome Le Commandant Charcot into Southampton on its maiden call. It was a first for Southampton, welcoming a hybrid exploration ship to the port.
'I am proud that, alongside our fantastic partners, the Port of Southampton can cater for all vessels, large and small, as shown this week.'