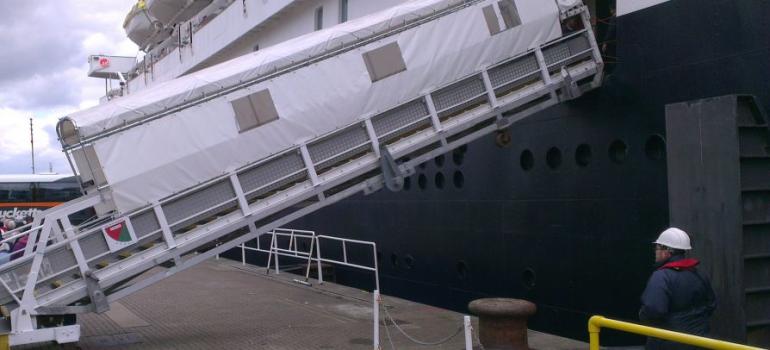 2 June 2017
Whatever the weather, cruise passengers arriving at Portsmouth International Port can be assured of disembarking comfortably thanks to new purpose-designed covers for the gangways.
Be it blazing hot sun, or driving rain, the new covers offer protection from the elements. Designed and manufactured by Lucas Sails, the covered gangways were brought into action earlier than expected with the unplanned arrival of MV Astoria at Portsmouth International Port last month.
Cruise and Maritime Voyages (CMV) made the decision to bring MV Astoria to the Waterfront City on Friday 5 May, after bad weather meant the company couldn't take the cruise ship to the Channel Islands as originally planned. The unscheduled stop at Portsmouth International Port was a boost to local tourist businesses. Six hundred passengers enjoyed a full day out in the city.
The cruise team at Portsmouth International Port quickly made arrangements for all the dockside support that was required. The arrival of Astoria came in a busy month, with another nine scheduled to visit the Port in May.
Global passenger statistics for the cruise industry were also released in May. CLIA (Cruise Lines International Association) delivered strong figures for 2016, which showed more passengers than had been expected had travelled onboard cruise ships around the world.
CLIA had forecast that 24.2 million passengers would travel last year. It turned out that 24.7 million people cruised globally, with another positive year of growth forecast for this year. CLIA expects 25.8 million passengers to enjoy a holiday at sea in 2017.
Cindy D'Aoust, President and CEO of CLIA reflected on the figures, saying, "Never before have I been a part of or seen an industry that is so good at reacting to and listening to what its customers want, and this is why we are going to see our industry continue to grow."
That's certainly the attitude at Portsmouth International Port, where new Port Director, Mike Sellers, is looking to grow the cruise side of the business. Meetings and visits with cruise operators have led to a number of high profile new bookings for next year, with SAGA making 15 visits to the Port in 2018 and CMV introducing four new cruise holidays from Portsmouth.